HIGH-END TVET (HETVET) @ UiTM

HETVET@UiTM is designed as the game-changer in driving UiTM forward towards creating graduates who are knowledgeable, skilled and grounded. It also aims to develop graduates who possess high cognitive and functional work competencies based on the following THREE (3) main pillars:
Knowledge and Cognitive Skills 

Graduates who possess high knowledge and cognitive skills who are able to solve industry-based or organisational-based problems and issues. 

Highly-Skilled, Creative and Innovative 

Highly skilled, creative and innovative graduates who are able to resolve problems to enhance industry and organisational productivity. 

Performance-Driven Expectations 

Performance-driven graduates who are able to meet the needs of the industries, who are skilled and possess positive values and strong work ethics.
The HETVET@UiTM initiative has gained the support and recognition of the Malaysia Board of Technologists (MBOT) in championing the following FOUR (4) core models: 
Model 1: HETVET Academic [Programmes]
Model 2: Professional-Based [Programmes]
Model 3: Standard Skill-Based [Programmes]
Model 4: Industrial-Based [Programmes]
A total of 55 UiTM academic programmes (21 Diplomas and 34 Degrees) have fulfilled Model 2: Professional-Based, of the proposed HETVET@UiTM framework. This compliance has been officially recognised by MBOT as being in line with required quality guidelines and standards.
The recognition by MBOT creates a positive impact towards ensuring the quality of academic programmes at UiTM. It also enhances the potential employability of future graduates and indicates an acceptance by the industry. The steps being taken are all in support of the government's efforts to enhance the demand for talented and skilled TVET graduates in the country. With the launch, MBOT certification is awarded to 55 UiTM academic programmes that comply with 12 MBOT technology fields.
UiTM Programmes Accredited By MBOT

No.

Programme Name

Location

Reference Code

Agro-Based Technology (AF)

1.

Bachelor of Science (Hons.) Technology and Plantation Management (AT220)

UiTM Kampus Samarahan

MBOT/PR/AF/0/02/0002

UiTM Jasin

MBOT/PR/AF/0/02/0003

Art Design and Creative Multimedia (AM)

2.

Diploma in Art and Design (Graphic Design and Digital Media) (AD111)

UiTM Kampus Seri Iskandar

MBOT/PR/AM/0/01/0004

UiTM Kampus Machang

MBOT/PR/AM/0/01/0005

UiTM Kampus Sungai Petani

MBOT/PR/AM/0/01/0006

UiTM Kampus Alor Gajah

MBOT/PR/AM/0/01/0007

UiTM Kampus Samarahan

MBOT/PR/AM/0/01/0008

3.

Diploma in Art and Design (Textile Design) (AS112)

UiTM Shah Alam

MBOT/PR/AM/0/01/0009

UiTM Shah Machang

MBOT/PR/AM/0/01/0010

4.

Diploma in Art and Design (Fine Metal Design) (AD113)

UiTM Shah Alam

MBOT/PR/AM/0/01/0011

UiTM Kampus Machang

MBOT/PR/AM/0/01/0012

5.

Diploma in Art and Design (Industrial Design) (AD114)

UiTM Shah Alam

MBOT/PR/AM/0/01/0013

UiTM Kampus Sungai Petani

MBOT/PR/AM/0/01/0014

UiTM Kampus Alor Gajah

MBOT/PR/AM/0/01/0015

6.

Diploma in Art and Design (Ceramic) (AD115)

UiTM Kampus Seri Iskandar

MBOT/PR/AM/0/01/0016

UiTM Shah Alam

MBOT/PR/AM/0/01/0017

7.

Diploma in Art and Design (Fashion Design) (AD116)

UiTM Kampus Seri Iskandar

MBOT/PR/AM/0/01/0018

UiTM Shah Alam

MBOT/PR/AM/0/01/0019

8.

Diploma in Photography and Creative Imaging (AD117)

UiTM Kampus Seri Iskandar

MBOT/PR/AM/0/01/0020

UiTM Shah Alam

MBOT/PR/AM/0/01/0021

UiTM Kampus Alor Gajah

MBOT/PR/AM/0/01/0022

9.

Diploma in Animation (FF115)

UiTM Kampus Puncak Perdana

MBOT/PR/AM/0/01/0023

10.

Diploma in Interior Design (AP117)

UiTM Kampus Seri Iskandar

MBOT/PR/AM/0/01/0024

11.

Bachelor of Graphic Design (Hons.) (AD241)

UiTM Kampus Seri Iskandar

MBOT/PR/AM/0/02/0003

UiTM Kampus Puncak Alam

MBOT/PR/AM/0/02/0004

UiTM Kampus Machang

MBOT/PR/AM/0/02/0005

UiTM Kampus Alor Gajah

MBOT/PR/AM/0/02/0006

12.

Bachelor of Contemporary Metal Design (Hons.) (AD243)

UiTM Shah Alam

MBOT/PR/AM/0/02/0009

13.

Bachelor of Industrial Design (Hons.) (AD244)

UiTM Shah Alam

MBOT/PR/AM/0/02/0010

UiTM Kampus Sungai Petani

MBOT/PR/AM/0/02/0011

14.

Bachelor of Fashion Design (Hons.) (AD246)

UiTM Shah Alam

MBOT/PR/AM/0/02/0012

15.

Bachelor of Creative Photomedia (Hons.) (AD247)

UiTM Shah Alam

MBOT/PR/AM/0/02/0013

Atmospheric Science and Environment Technology (AC)

16.

Diploma in Environmental Health

UiTM Kampus Bertam

MBOT/PR/AC/0/01/0002

UiTM Kampus Samarahan

MBOT/PR/AC/0/01/0003

17.

Bachelor of Science (Honours) Environmental Technology (AS229)

UiTM Shah Alam

MBOT/PR/AC/0/02/0003

18.

Bachelor of Environmental Health and Safety (Hons.) (HS243)

UiTM Kampus Puncak Alam

MBOT/PR/AC/0/02/0004

Biotechnology (BT)

19.

Diploma in Medical Laboratory Technology (HS111)

UiTM Kampus Bertam

MBOT/PR/BT/0/01/0001

20.

Bachelor of Medical Laboratory Technology (Hons.) (HS241)

UiTM Kampus Puncak Alam

MBOT/PR/BT/0/02/0007

Building and Construction Technology (BC)

21.

Diploma in Building (AP116)

UiTM Kampus Seri Iskandar

MBOT/PR/BC/0/01/0001

UiTM Kampus Samarahan

MBOT/PR/BC/0/01/0002

22.

Diploma in Building Surveying (AP119)

UiTM Kampus Seri Iskandar

MBOT/PR/BC/0/01/0003

23.

Diploma in Industrial Chemistry (AS115)

UiTM Kampus Arau

MBOT/PR/CM/0/01/0007

UiTM Kampus Samarahan

MBOT/PR/CM/0/01/0008

24.

Bachelor of Science (Hons) Construction Technology (AP245)

UiTM Kampus Seri Iskandar

MBOT/PR/BC/0/02/0001

25.

Bachelor of Science (Hons.) Applied Chemistry (AS245)

UiTM Shah Alam

MBOT/PR/CM/0/02/0010

UiTM Kampus Arau

MBOT/PR/CM/0/02/0011

26.

Bachelor of Science (Hons) Chemistry (Forensic Analysis) (AS253) 

UiTM Shah Alam

MBOT/PR/CM/0/02/0012

27.

Bachelor of Industrial Ceramic (Hons.) (AD245)

UiTM Shah Alam

MBOT/PR/CM/0/02/0013

Food Technology (FT)

28.

Diploma in Food Technology (AS116)

UiTM Kuala Pilah

MBOT/PR/FT/0/01/0001

UiTM Kampus Samarahan

MBOT/PR/FT/0/01/0002

29.

Bachelor of Science (Hons) Food Science and Technology (AS246) 

UiTM Shah Alam

MBOT/PR/FT/0/02/0002

UiTM Kampus Kuala Pilah

MBOT/PR/FT/0/02/0003

Information and Computing Technology (IT)

30.

Diploma in Computer Science (CS110)

UiTM Kampus Kuala Terengganu

MBOT/PR/IT/0/01/0033

UiTM Kampus Tapah

MBOT/PR/IT/0/01/0034

UiTM Kampus Raub

MBOT/PR/IT/0/01/0035

UiTM Kampus Arau

MBOT/PR/IT/0/01/0036

UiTM Kampus Jasin

MBOT/PR/IT/0/01/0037

UiTM Kampus Machang

MBOT/PR/IT/0/01/0038

UiTM Kampus Sungai Petani

MBOT/PR/IT/0/01/0039

UiTM Kampus Segamat

MBOT/PR/IT/0/01/0040

UiTM Kampus Samarahan

MBOT/PR/IT/0/01/0041

31.

Bachelor of Information Technology (Hons.) (CS240)

UiTM Shah Alam

MBOT/PR/IT/0/02/0039

UiTM Kampus Arau

MBOT/PR/IT/0/02/0040

32.

Bachelor of Science (Hons.) Statistics (CS241)

UiTM Shah Alam

MBOT/PR/IT/0/02/0064

UiTM Kampus Kota Bharu

MBOT/PR/IT/0/02/0065

UiTM Kampus Seremban 3

MBOT/PR/IT/0/02/0066

33.

Bachelor of Information Technology (Hons.) Intelligent Systems Engineering (CS243)

UiTM Shah Alam

MBOT/PR/IT/0/02/0041

34.

Bachelor of Information Technology (Hons.) Business Computing (CS244)

UiTM Shah Alam

MBOT/PR/IT/0/02/0042

UiTM Kampus Kuala Terengganu

MBOT/PR/IT/0/02/0043

35.

Bachelor of Science Computer (Hons.) Data Communication and Networking (CS245)

UiTM Shah Alam

MBOT/PR/IT/0/02/0044

UiTM Kampus Arau

MBOT/PR/IT/0/02/0045

UiTM Kampus Jasin

MBOT/PR/IT/0/02/0046

36.

Bachelor of Information Technology (Hons.) Information Systems Engineering (CS246)

UiTM Shah Alam

MBOT/PR/IT/0/02/0047

UiTM Kampus Jasin

MBOT/PR/IT/0/02/0048

37.

Bachelor of Science (Hons.) Computational Mathematics (CS247)

UiTM Kampus Jengka

MBOT/PR/IT/0/02/0049

UiTM Kampus Seremban 3

MBOT/PR/IT/0/02/0050

UiTM Shah Alam

MBOT/PR/IT/0/02/0051

UiTM Kampus Kuala Terengganu

MBOT/PR/IT/0/02/0052

38.

Bachelor of Computer Science (Honours) (CS230)

UiTM Shah Alam

MBOT/PR/IT/0/02/0053

UiTM Kampus Tapah

MBOT/PR/IT/0/02/0054

UiTM Kampus Jasin

MBOT/PR/IT/0/02/0055

UiTM Kampus Kuala Terengganu

MBOT/PR/IT/0/02/0056

39.

Bachelor of Computer Science (Hons.) Netcentric Computing (CS251)

UiTM Kampus Jasin

MBOT/PR/IT/0/02/0057

UiTM Kampus Arau

MBOT/PR/IT/0/02/0058

UiTM Shah Alam

MBOT/PR/IT/0/02/0059

40.

Bachelor of Computer Science (Hons.) Multimedia Computing (CS253)

UiTM Shah Alam

MBOT/PR/IT/0/02/0060

UiTM Kampus Jasin

MBOT/PR/IT/0/02/0061

41.

Bachelor of Information Science (Hons.) Information System Management (IM245)

UiTM Shah Alam

MBOT/PR/IT/0/02/0062

UiTM Kampus Machang

MBOT/PR/IT/0/02/0063

Manufacturing and Industrial Technology (ME)

42.

Diploma in Polymer Technology (AS113)

UiTM Kampus Arau

MBOT/PR/ME/0/01/0009

43.

Diploma in Wood Industry (AS117)

UiTM Kampus Jengka

MBOT/PR/ME/0/01/0010

44.

Diploma in Textile Technology (AS118)

UiTM Kampus Kuala Pilah

MBOT/PR/ME/0/01/0008

45.

Diploma in Printing Technology (AD120)

UiTM Kampus Puncak Alam

MBOT/PR/ME/0/01/0011

46.

Bachelor of Science (Hons.) Polymer Technology (AS243)

UiTM Shah Alam

MBOT/PR/ME/0/02/0008

UiTM Kampus Arau

MBOT/PR/ME/0/02/0009

47.

Bachelor of Science (Hons.) Furniture Technology (AS247)

UiTM Kampus Jengka

MBOT/PR/ME/0/02/0010

48.

Bachelor of Science (Hons.) Textile Science and Fashion Technology (AS250) 

UiTM Shah Alam

MBOT/PR/ME/0/02/0011

49.

Bachelor of Textile Design (Hons.) (AD242)

UiTM Shah Alam

MBOT/PR/ME/0/02/0012

UiTM Kampus Machang

MBOT/PR/ME/0/02/0013

50.

Bachelor of Printing Technology (Hons)

UiTM Kampus Puncak Alam

MBOT/PR/ME/0/02/0014

Marine Technology (MR)

51.

Bachelor of Science (Hons.) Marine Technology (AS254)

UiTM Arau

MBOT/PR/MR/0/02/0001

Material Science Technology (MT)

52.

Bachelor of Science (Honours) Materials Technology (AS230)

UiTM Shah Alam

MBOT/PR/MT/0/02/0004

Telecommunication and Broadcasting Technology (TB)

53.

Diploma in New Media Communication and Contentpreneurship (MC111)

UiTM Kampus Alor Gajah

MBOT/PR/TB/0/01/0003

54.

Bachelor of Mass Communication (Hons.) Broadcasting (MC243)

UiTM Shah Alam

MBOT/PR/TB/0/02/0002

55.

Bachelor of Communication (Hons.) Instructional Communication and Training (MC246)

UiTM Shah Alam

MBOT/PR/TB/0/02/0003
HETVET @ UiTM Townhall 2021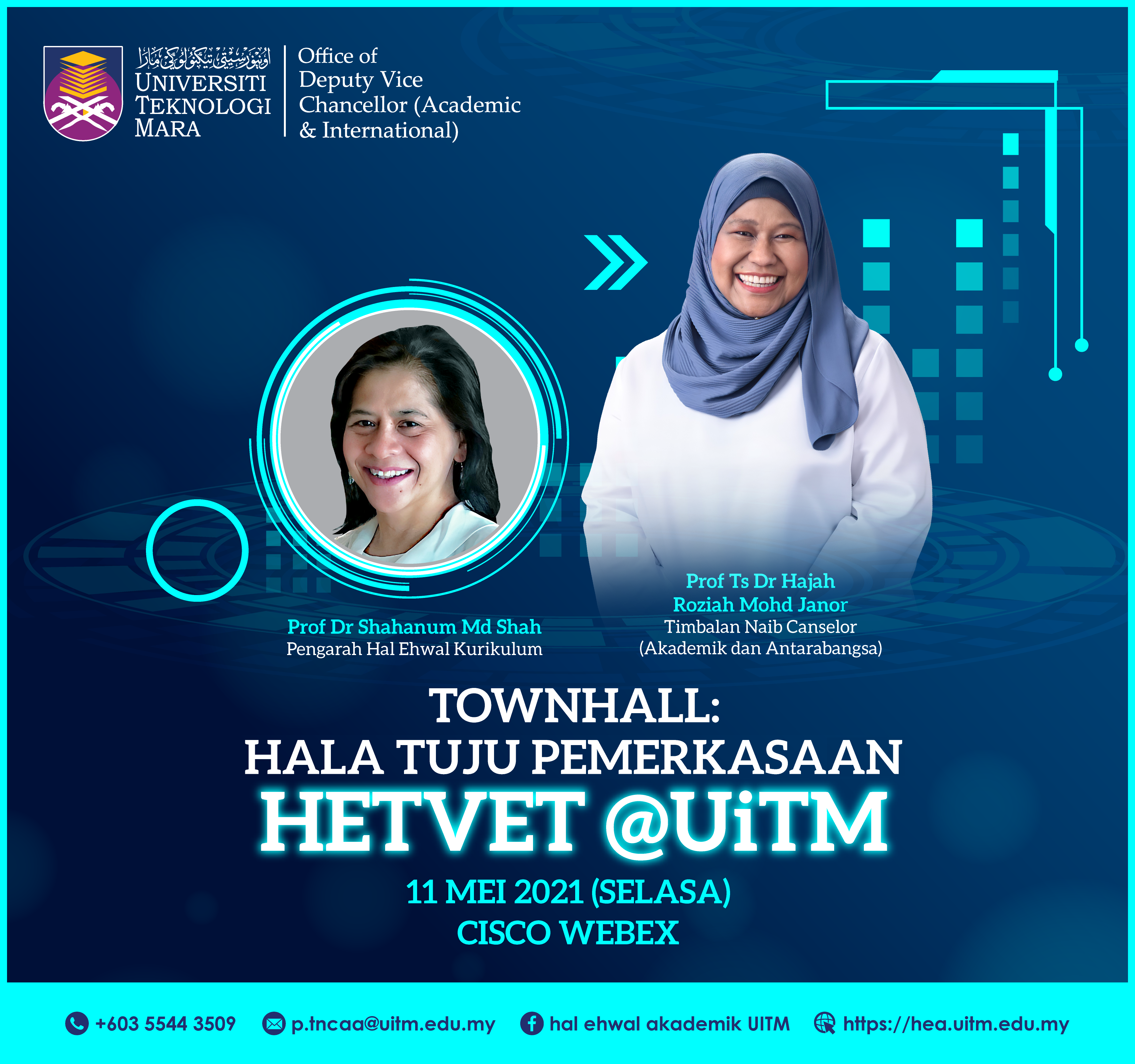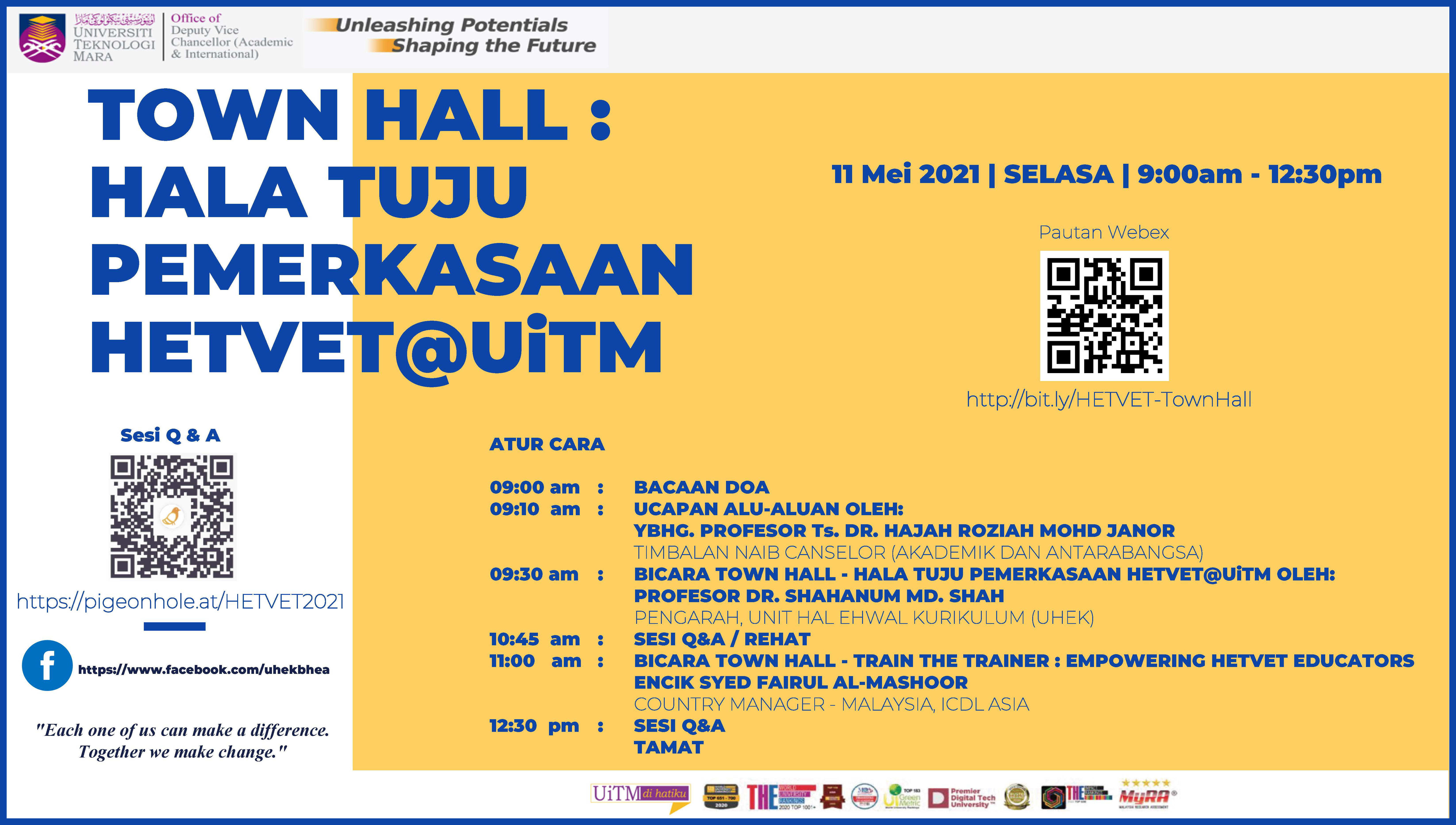 HETVET @ UiTM Townhall Programme Contents
No.

Contents

Download

Town Hall Session

1.

Opening Speech

2.

HETVET @ UiTM Empowerment Pathway

Sharing Session [ICDL & INTEC]

3.

Training Of Trainers: Empowering HETVET Educators

4.

ICDL Modules

Additional Contents

5.

Presentation Slide & FAQs
Contact Us For More Information: